Software
Over 70 VPCart bolt-ons and counting!
Here's an example of what we do
VPCart Predictive Searches Quick and awesome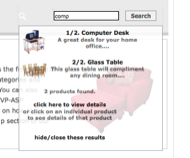 This type of search technology is used by sites such as Amazon and ebay. It provides a quick and convenient way for customers to easily find products. As customers type in their search terms they get an automatically generated list which changes letter by letter. It is easy to install and just needs to be uploaded and a couple of minor changes to be made (there are simple to follow instructions).


Displays results as customer types in their search
Quick & easy to install - needs no specialist skills
Light on system resources
Uses powerful search logic to deliver relevant results
Why spend your valuable time doing the technical stuff when we can take care of it for you.
As you can appreciate the time and complexity of installations varies with what needs installing and where. We are happy to provide this service at a very competitive cost but we need to find out as much information as we can from you.
Please email us at supportmail being sure to tell us what you want installing and the url of your website. We'll then get back to you as soon as we can.
We are continually developing our software to address any bug fixes and to implement new feature enhancements.
We offer upgrade protection on all our products. All our software comes with
FREE 180 day upgrade protection
, so if we make a new release within 180 days of your purchase you are entitled to a
free upgrade.
Outside the 180 day period when new releases are available you can upgrade for a small charge based on the price of the product.
For a single upgrade the cost is 40% of the price.
For a permanent upgrade (i.e. upgrades forever) the cost is 80% of the price.
To check your software / upgrade status simply login to your
BigYellowKey
Account.
Upgrade prices are not relevant to Annual Pass holders as all upgrades are free while your pass is active.
Full license terms
.